Lifelong Fascination: Lilian Baker Carlisle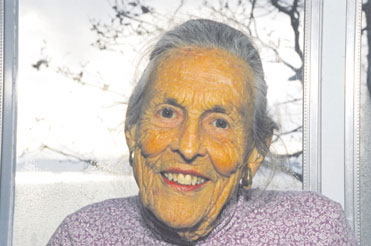 Lilian Baker Carlisle is the kind of woman who galvanizes a room. At the official launching of the Vermont Encyclopedia at UVM last April, she drew colleagues and admirers to her side with every step. Nationally recognized for her work cataloguing the renowned collection of folk art and artifacts at the Shelburne Museum and for her writing on antiques, Ms. Carlisle -- who "absolutely hated" history when she was growing up -- was a founder of the Chittenden County Historical Society. Long active in the community as a writer, historian, environmentalist and civic-minded citizen, this elegant woman of 92 years knows everyone.
Lilian Carlisle moved to Burlington in 1946 with her husband Grafton, a banker, and their two daughters, Diane and Penny. She stayed at home with her children for a while, and then decided to take a part-time job. Trained as a legal secretary, she worked for a couple of years in a Burlington law office. One of the attorneys in the office was Fred Smith, who served as clerk for the Shelburne Museum which was founded in 1947 by Electra Havemeyer Webb and her husband, J. Watson Webb. Mrs. Webb needed a secretary and Fred Smith recommended Lilian. "At first I was just her social secretary," Carlisle says.
The year was 1950 and Electra Webb was then developing the museum in earnest. Carlisle was initially hired for her shorthand and typing skills, but found herself surrounded by an avalanche of quilts, bonnets, rugs, hatboxes, carriages, dolls, parasols, and cigar store Indians. "Mrs. Webb said, 'We've got to have a filing system. See what you can do about it,'" Carlisle recalls. She visited museums in Boston and New York, as well as the Fleming Museum in Burlington, and subsequently developed a cataloguing system for the entire collection at the Shelburne Museum.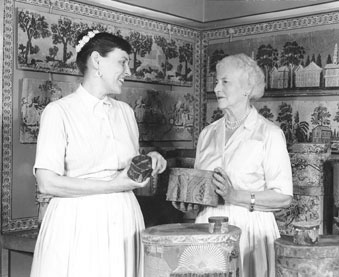 Carlisle's next challenge was becoming a writer. With Ralph Nading Hill, she wrote The Story of the Shelburne Museum, published in 1955. A year later, she was at work on The Carriages at Shelburne Museum. She quickly learned the difference between an omnibus, a phaeton, a chaise, and a surrey. The museum owned over a hundred such vehicles. "The carriages were out in the Horseshoe Barn and I climbed up on all of them," she says with her characteristic smile.
The following year, Carlisle published Pieced Work and Applique Quilts at Shelburne Museum. Electra Webb had gathered more than three hundred quilts, and they all needed to be catalogued before they could be exhibited. "I would take whatever was on top of the pile and start describing it," Carlisle explains of her approach. The collection included quilts with familiar geometric designs -- such as Jacob's ladder, orange slices, pin cushion, and log cabin. There were also applique quilts, with floral designs cut out of chintz or cotton. This collection was eventually displayed in a special Quilt Room in the Hat and Fragrance Shop of the museum.
Since houses in the nineteenth century frequently didn't have closets, people used hatboxes and bandboxes for storage. The museum's collection of more than two hundred hatboxes and bandboxes was the topic of Carlisle's next book: Hatboxes and Bandboxes at Shelburne Museum.
Electra Webb died in November of 1960, and Lilian Carlisle remained at the Shelburne Museum for a year following Webb's death. During her eleven-year tenure at the museum, Lilian, who says she knew nothing about antiques, received a journeyman's education. By the time she left in 1961, she was a connoisseur.
Over the next twenty years, Carlisle put her knowledge to work writing for Antiques Journal, Yankee, Antiques, Spinning Wheel, Art & Antiques, Hobbies, Antique Trader, and other trade magazines. She traveled to England for a series of articles on Wedgewood, to Spain to write about matador regalia, and around Vermont to research articles from toys and fireworks, to coffin plates and souvenir spoons.
Carlisle's experience at the museum sparked her interest in crafts and antiques, enlivening her sense of history and her fascination with the shaping of our culture. Many of her stories focused on crafts that women made in their homes -- shellwork, needlework, sandpainting and spatterware -- techniques that didn't cost money. She wrote about moss and seawood arrangements, botanical specimen pictures, wax flowers, feather wreaths, tinsel painting, beadware, crib quilts, perforated card work, and pierced paper. She speaks eloquently and enthusiastically about the objects such as these that she has in her own personal collection.
In 1965, for the one-hundredth anniversary of the founding of the City of Burlington, Carlisle served on the mayor's committee to plan the celebration. At the time, Burlington was in the midst of urban renewal, and dozens of buildings on Pearl Street and Battery Street were slated for demolition. Carlisle suggested they have an historic walk.
Her idea was to meet at Battery Park and tour the neighborhood, stopping at each building. On the morning of the walk, it was raining: "The most miserable day you can imagine," she recalls. She trudged down to the park, expecting no one would show up -- and was surprised to find fifty people. By afternoon, the skies cleared, and more people showed up for a second walk, giving Carlisle and her fellow history buffs the impetus to found the Chittenden County Historical Society.
During the 1970s, the Society published a series of nine books on Chittenden County communities, which Carlisle edited. Rather than taking a formulaic approach, Carlisle wanted each book to be different. She worked with people in each town, perusing maps, doing research and interviews, and wrote about old houses, stores, churches, quarries, and other historic sites in the community.
As the years have gone by, Carlisle has continued to add projects to her full life. A long-time collector of coin silver, she produced another book: Vermont Clock and Watchmakers, Silversmiths and Jewelers, published in 1970. She became a private appraiser of silver, and continues this work today. Carlisle has served on the Advisory Board of the Fleming Museum for many years, and is still an active supporter. During the 1980s, whenever Vermont Public Television (then Vermont ETV) held its annual auction, Lilian was always an on-air presence during Antiques Night. She was a cameo speaker in Vermont Memories II, a VPT documentary focusing on the late '40s and '50s -- an era that brought finned cars, multiplying ski areas and the advent of television to the Green Mountains.
Carlisle remains active in the Chittenden County Historical Society to this day. Late in the fall of 2003 the Society published another volume of Burlington Neighborhoods, the third in a series written by David Blow and featuring photographs by Sarah Dopp. These books are social histories, with stories about houses and buildings, and anecdotes about people and places. Lilian Carlisle edited all three volumes.
Her organized walking history tours, begun in 1965, have also continued through the years. And even the raw wind of November fails to dampen Carlisle's enthusiasm during her daily walk, as she shares stories with a visitor about her own neighborhood's social and architectural heritage, or chats conspiratorially with another resident about their plans for the Mardi Gras Parade. Last year, their neighborhood's float entry won first prize, Carlisle grins.
"I always find things that are fascinating," she says. "I thought one time if I had to give a lecture to a graduating class of high school kids, I would tell them that the main thing is: Don't lose your sense of wonder. Because as long as you wonder about things, you're alive!"
REPRESENTATIVE CARLISLE GOES TO MONTPELIER
Lilian Baker Carlisle spent one term in the Vermont Legislature, in 1969-70. She ran for election because she was disturbed about the Moran Plant in Burlington spewing fly ash into the air. "The wind blew the ash around and made the air smell like you were riding behind a bus that needed a tune-up. There was nothing they were in violation of --because there was no Clean Air Act," she says. So she went to Montpelier to be a force for change.
After she was sworn in, she was asked to give her three committee choices. "Natural resources, natural resources, natural resources. It's the only one I want to be on." Deane Davis was the governor then, and Act 250, the state's landmark environmental law was passed during her term. This is the law that set strict standards for development in Vermont. Environmental causes remain one of her passions today, and as she notes wryly, "This is why I go crazy about Mr. Bush!"
Besides Act 250, another landmark bill that term concerned abortion. This was prior to 1973, and the Roe v. Wade Supreme Court ruling. The Vermont Legislature passed a law allowing abortion in the first trimester in the case of incest, rape, or the endangered health of the mother. Representative Carlisle voted affirmatively for abortion rights. She also voted not to pay for tuition to Catholic schools. These were both unpopular votes in her district. When she ran next, for the Vermont Senate in 1970, she lost to the venerable Sadie White.
Carlisle would like to have stayed in Montpelier but she's philosophical about the loss. "When you go there, you have to hold up your right hand and say you're not going to vote against yourself, the principles that you have. And I had a principle that a woman's body was a woman's body, not the state's. As simple as that. It didn't matter whether it sealed my fate."