Words from the Silenced
Photos by Alice Greenwood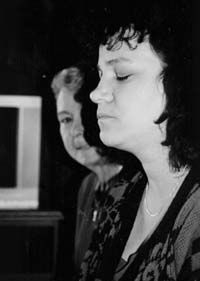 "If it weren't for photography, I may never have graduated from high school," confides photographer Alice Greenwood, explaining the course of events that led to her upcoming exhibit "Faces of the Silenced: Portraits and Stories of Teenage Pregnancy." Unlike her "more academic" sisters, Greenwood says she struggled in school until she took an introductory photography class as a freshman. She credits the discovery of this pursuit, and her instructor, for motivating her to get her high school diploma; she then went on to UVM and into her current job as a substance abuse counselor at the Lund Family Center in Burlington. She speaks thoughtfully about the avenues that have opened up to her, and how important it is for one to have options and support in facing the challenges of life.
Greenwood's portraits in this exhibit reveal great sensitivity; it is clear that she earned the trust of the women she has portrayed. She undertook a daunting assignment: to present a project that "does not criticize, disregard, or glorify teenage pregnancy in any way, but that sheds light on the reality of teen pregnancy and the challenges young women face." As a collection, the faces express self-assurance, having overcome the odds, as well as pain that has endured for decades. Women from age sixteen to sixty-two are included, sharing their stories of having become a mother while still a child.
"Faces of the Silenced" is the brainchild of Stephanie Rosenstein, who is Teen Pregnancy Prevention Outreach Coordinator at the Lund Family Center in Burlington. The mission of the exhibit is to educate the community about teen pregnancy and the resources available for teen pregnancy prevention. "It's not an issue to be swept under the rug," states Greenwood. "I think this exhibit shows the positive aspects of early motherhood — and its hardships." And, though Greenwood's photographs are sensitive and touching, the project is not limited to wordless images of anonymous faces; each woman's story, from interviews by Rosenstein, accompanies her portrait.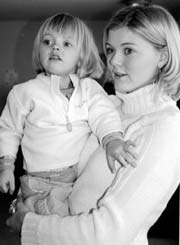 Rosenstein started work on the project in December, getting the word to a variety of agencies that reached women who had been teen mothers. Greenwood says they deliberately left the criteria for inclusion open, so there was as little imprint as possible by the organizers. They accepted whoever came forth. "By not putting our own stuff in there – that's how we accomplished our mission," she says. Greenwood had hoped to be able to include a very elderly woman, and word was put out to area nursing homes; but no one over seventy responded. Next, the interviews were arranged. Greenwood's idea was for each woman to choose the space where she wanted to be interviewed and photographed. As the participants shared their stories with Rosenstein, Greenwood set to work with her Nikon. In some cases, the women were telling their entire stories for the first time. Greenwood is touched by the candor and intimacy the women gave with their histories.
The black and white prints Greenwood shot outdoors in natural light are most compelling. The finest series of photos in the show are portraits of "Sarah," with rich contrasts of light and dark. They are a study of textures: the texture of Sarah's thick knit sweater, the bark of an adjacent tree; and the texture of Sarah's face revealing a life lived not without cares. Sarah chose to be photographed in the place where she was reunited, after 45 years, with the son who, as she describes it, she gave up to God. The photos reveal the great contrasts of emotions Sarah experienced while sharing her story.
Another poignant series is with "Deb," who describes herself in childhood as "witnessing things that no child should see," and tells how she would escape to the woods as a refuge from her reality. During the retelling of her story as a teen mother, overcome with emotion, she wrapped her arms around a tree to seek comfort, a poignant moment tenderly caught by Greenwood's camera as Deb turns once again to nature to provide her strength.
While the sober realities and challenges of teen motherhood are presented forthright, Greenwood's portraits reveal moments of strength, not just sorrow; they introduce us to individuals who have surpassed their circumstances on their own or through the help of others. "Melissa" became a mother at age 13. Her mother gave her best shot at providing what almost no other teen mother ever gets to have again: a second chance at growing up as a teenager. She took on the care of the baby, making it possible for Melissa to finish high school, and "grow into" the role of mother. In addition, Melissa was able to continue her education and studied to be a paralegal. Now, says Greenwood, Melissa will have a better chance to provide for her own child. Greenwood's portrait of Melissa with her daughter portrays a very young person who appears optimistic, comfortable with herself and self-assured.
The project has been a true community collaboration. Greenwood says the frames for the photographs were constructed out of salvaged barnboard by Recycle North's Waste Not Products Program, under the direction of Mark Dabelstein. And she raves about the support that the folks at Photogarden gave her to get the prints done ("it was tough giving up that control," she laughs).
The artist in Greenwood lights up as she describes this collection of portraits as intertwined with a lot of "raw emotion" that she was able to capture. But this compassionate young woman is sensitive to what she has experienced. "I work with women who make adoption plans, as well as those who choose to parent," Greenwood explains. "Doing this project has helped me appreciate the weight that women carry in making this decision – I see how it weighs on people years later, when they wonder whether they made the right decision, or question the decision that was made for them by others."
Our lives turn on the dime of a small word: If only, if not for…. For the women portrayed in Alice Greenwood's photos, whether their pregnancy was intended or unexpected, it altered the course of their life. If not for Greenwood's camera, they might still be the faces of silence.
"Faces of the Silenced: Portraits & Stories of Teenage Pregnancy"
will be on view through April at One Main Street/Union Station in Burlington.
For more info contact Kitty Bartlett 864-7467 ext. 2014.