The Face of Vermont Farms gets a Lift:
Agri-Tourism
By Lynn Monty
Photo: Margaret Michniewicz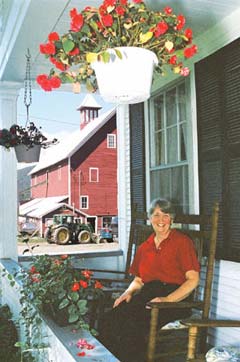 Vermont farms are increasingly doubling as bed and breakfasts. Farming is enough of a challenge; why add cooking for and cleaning up after myriad guests to the list of daily chores?
The answer is often financial stability. The B&B has become a promising facet of agri-tourism on farms in the Green Mountain State. Agri-tourism provides visitors with an educational experience of Vermont's farming industry, and accounts for about four percent of the industry's revenues. According to the New England Agricultural Statistics Service, in 2002 agri-tourism engaged one-third of the state's farms and generated $19.5 million, almost double the value of agri-tourism in 2000. About 2,200 farms each received an average of nearly $8,900 per farm in 2002.
Beth Kennett owns Liberty Hill Farm in Rochester, a working dairy farm that has been accepting guests for twenty-one years. "It all began in the 'Newhart Days,'" she said, referring to the then-popular television sitcom involving a Vermont inn. "B&Bs were typically old tourist homes from the fifties, somewhat upscale and not catering to children," Kennett said. She describes her B&B as a "Family Farm Vacation" complete with highchairs and cribs. Kennett also serves dinner, knowing that parents with small children enjoy the restaurant experience less.
Liberty Hill Farm B&B was so successful that, fifteen years ago, UVM Extension specialist Bob Townsend asked Kennett to speak to other farmers about agri-tourism and its value for both farm and public. She has been speaking locally, nationally, and in Canada ever since.
Kennett is now chair of the Vermont Farms Association (VFA), which offers agriculturally-oriented ventures to the public on seventy-six farms. Some of those are also B&Bs, offering stays in richly historic homes filled with antiques. Visitors can help with the daily round of chores or observe from afar. Either way, she says, they learn that food has a history beyond the supermarket and mall.
The educational component is important. There is a fine line between agri-tourism and agri-tainment, says Kennett. Corn mazes and hayrides have a place, but at Liberty Hill Farm, "it is about being a part of agriculture."
A little girl interrupts and meekly asks Kennett if she can pick up the cats. Kennett chuckles and comments that she is surprised her cats know how to walk at all, since they are carried by little arms pretty much from birth. Even the hens like being picked up. One hen was carried around for an entire day, and when the dinner bell rang, the hen refused to be set down, providing pre-dinner entertainment for Kennett and her guests.
According to Kennett, the growing number of women in the agri-tourism industry is largely due to the emphasis on relationships. Women are often the face of the farm, offering nurturing, understanding, and awareness.
The Hollister Hill Farm and Bed and Breakfast in Marshfield is a more recent addition to the agri-tourism movement. Lee Light and her husband Bob purchased the farm in 1983 and ran it as a family dairy farm with their son until 1997. By then, the dairy industry had changed and they were losing money, so they sold their seventy-five milking cows. In 1999 they converted the twelve-room farmhouse into a B&B. Light now raises beefalo, hogs and poultry, and sells meat, maple syrup, and other goods at the on-site farm store.
Light explained that the most challenging aspect of this endeavor, aside from high property tax bills, is marketing. In the beginning, Hollister Hill Farm was the only B&B in the area. Now more competition forces her into the world of web design and brochure creation. "Crackerjack marketing is the difference between just getting by and running a lucrative business," Light says, admitting that she is just getting by.
It's hard to see when Light would find the time for marketing. She is up before dawn tending the animals prior to breakfast preparation. During her busy season, she will have sausage, fried eggs, waffles, blueberries, maple syrup and honey, all foods from the farm, on the table by 8:30 a.m. for as many as ten. After cleaning the kitchen and dining areas, she then dashes off for guestroom cleaning and linen changing. There are perennial gardens to be maintained (although Light finds the hours she must spend in the garden a complete joy) and animals to be fed and tended throughout the day. Light also serves on several community boards, so there are often evening meetings to attend.
But she points out that she is not the only one working hard. "People need to know that animals have a job. Here they experience that first hand," she says.
Despite the hectic schedule, Light finds the enterprise rewarding. Sixty percent of her guests are families, and many are repeat customers after just seven years. She has found that people have a renewed interest in moving back to the land.
At Four Springs Farm in Royalton, the experience is more campground than B&B. Jinny Hardy Cleland's seventy acre, working organic vegetable and poultry farm has private cabins, tent sites, and a wash house. "People need to see how food is grown," Cleland says. "I offer vacation opportunities and retreat possibilities with low cost accommodations close to nature."
With a view of the Green Mountains, Four Springs Farm offers visitors a look into the endangered life of today's small family farm. Cleland specifies that it is a working farm first, with the hospitality an important and fun addition. The educational programming draws in families and some home-schoolers.
Ellen Terie's B&B at Shepherd's Hill Farm in Taftsville also aims to educate. Terie is a practicing psychotherapist who moved to Vermont in 1997 and took a sheep management course. She purchased the Taftsville land in 1999 and developed the farm with an eye towards land conservation. Along with striving to safeguard and preserve the environment, her dozen hens, 120 sheep and 7 beehives are all chemical- and stress-free. "There is a major disconnect in our society when people buy food," Terie says. "People need to ask, what is the process? How did the animals that I eat live before they reached my table?" As she puts it, the goal of her farm is to build an alternative to, and raise awareness of, factory farming, which "loads animals with antibiotics during their cruelly unnatural lives."
Bed and breakfasts are blossoming nationwide, but Vermont B&Bs have a special allure. Tucked into lush, green hills, these homes away from home bring harried and depleted souls back to life with blazing hearths and home grown comfort foods. Orchards and flower gardens, lambs, chicks, and kittens abound. There is no doubt that Vermont's farm vacationers leave not only rejuvenated but well-educated.
Lynn Monty is a married mother of two and full-time Saint Michael's College Journalism Major.