Making the Economy our Own –
The Growing Care Crisis
By Rickey Gard Diamond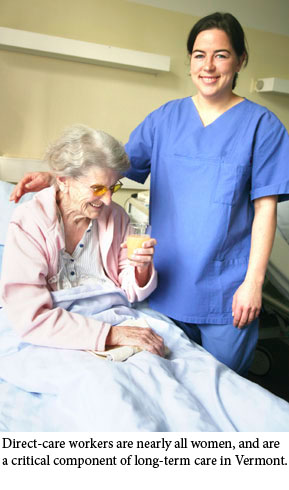 When I started this series, I first spoke with Stephanie Seguino, an internationally recognized economist at the University of Vermont. "Why should women care about economics?" I asked her.
"Because there's a growing care crisis coming," she answered, commenting on how seldom "care" makes U.S. headlines – but needs to. "We like to think of ourselves as independent and self-sustaining. But every single human being has to live as a dependent. Every child is dependent the first 18 years of life. Many human beings will live with a chronic illness that takes care. Most human beings will get old and need care as they age. Being dependent is simply part of life."
Seguino notes that many other advanced economies provide for inevitable needs as public policy. When she worked in Trinidad/Tobago, which most Americans consider an impoverished country, the young mothers there were shocked to learn that American moms do not get what they considered normal: paid maternity leave to stay home with newborn infants.
According to the Australia-based Women's Network of The Association of Professional Engineers, Scientists, and Managers, which compiles worldwide information on maternity leave, only six countries out of 140 provide no financial support for new mothers. The U.S. is in the company of Lesotho, Swaziland, Papua New Guinea, New Zealand, and Australia – but Australia grants one year's leave with a guarantee of returning to a job, compared to only 12 weeks in the U.S. By comparison Trinidad/Tobago provides 12 weeks maternity leave, but at 100 percent of pay.
Wealthier countries do even better. Canada provides 55 percent of wages for 15 weeks. Most European countries, utilizing financial instruments similar to unemployment insurance, grant between 85 and 100 percent of pay, sometimes for both parents, for as long as 64 weeks. Most invest in healthcare systems, too, using a variety of financial tools to accomplish universal care. They invest in a healthy beginning for all children, regardless of income, and less stressful health care for adults.
When my aging father traveled to France and fell ill, he was rushed to the nearest hospital, cared for without questions about insurance, and never discussed the bill. It astonished him more than the Eiffel Tower. So I wasn't surprised that in the World Health Organization's ranking of 191 countries' health care systems in 2000, France placed first. More shocking, however, was the news that the U.S. led in costs per capita – $5711, compared to France's $3048 – yet we ranked only 37th in quality, bested by 36 countries, all of which provided universal health care.
The Personal is Economics
Vermont's talk of single-payer insurance by 2017 gives me hope. But the last time I went to the hospital, I signed a form to confess my awareness I was ultimately responsible for all charges. To remind me, my insurance company regularly sends me multi-page forms titled "Explanation of Benefits," which we've renamed at our house, "Explanation of Why You Must Pay." Like many Vermonters, I have a high-deductible policy which eats up my savings account. Yet it does reduce my costs, largely because, regardless of what my doctor and pharmacist charge me, the insurance company always pays less. None of this inspires much trust.
"We, as a society," Seguino says about this contrasting ethos in the U.S., "have displaced our resources and failed to invest in children and in social insurance or national policies that will care for our sick and the elderly. Because our nation has divested itself of this caring work, the responsibility for it getting done – because it still needs to be done – disproportionately falls to women."
As I report this, the Republican-led U.S. House of Representatives has proposed to cut $1.3 billion from community health centers, which are important to rural Vermont. The House also seeks elimination of all federally funded family planning and proposes cutting nearly a billion dollars in food and health-care assistance to pregnant women, new moms, and children. Cuts to the National Institutes of Health amounting to $1.6 billion will likely affect research of Alzheimer's and Parkinson's. As part of a strategy to keep the government operating as budgets get hammered, Obama's White House sacrificed Even Start, a program for moms and teen moms lacking a high school education which has served as a crucial step toward self-reliance in Vermont. At least 40 young families in the state will lose education and life-skills support as a result, says Central Vermont Head Start Director Marianne Miller.
Those are federal dollars, but closer to home our new Democratic governor, Peter Shumlin, has also proposed cuts in caring to balance Vermont's budget, citing the pressures of the "Great Recession." Shumlin argues for his administration's "flexibility," but only as long as "we have a balanced budget next year, as long as we get there without raising broad-based taxes, or depleting our budget stabilization reserves." Borrowing funds, raising taxes even temporarily, or drawing on rainy day funds is somehow more economically heinous than cuts in help for our neediest Vermonters.
Yet Vermont families are being asked to go into debt, ask for raises, or look for new jobs while using their savings to squeak by. To accept Shumlin's framework requires more evidence that cutting care is truly "sustainable." Those more familiar with the realm of women and caregiving were largely in agreement that Vermont's families are already hard pressed.
"We like to harken back to the way it was: we say, no, that's the family's responsibility. But we live in a different world," says Susan Gordon of Groton, retired Director of the Community of Vermont Elders (COVE) Caregivers' Initiative. "We have more people with disabilities and people who are older, who are living much, much longer with much more serious chronic diseases." Gordon's work helped identify 11,000 Vermont women who work in the growing field of "direct care," or those who are paid to clean, cook, shop for, bathe and care for Vermonters who otherwise would require institutional care.
For the past nine years, the state has sought to keep seniors and the chronically ill out of institutions and living at home. "Vermont's nursing homes do a great job and fill a very important role," says Beth Stern, Executive Director of the Central Vermont Council on Aging. "But most Vermonters prefer to stay at home. Plus we save money. It's about half the cost."
Each of the five Agencies of Aging in the state has a care-giving coordinator who manages home care as a team effort, shared by family members and paid direct-care workers. Home Health Agencies and community agencies who help people with disabilities also help locate and coordinate these workers.
Vermont: A Leader
In 2008 and 2009, Vermont's Department of Disability, Aging, and Independent Living (DAIL) published and then presented to the Legislature an important collaborative study of the Direct Care Workforce in Vermont. Direct-care workers may be called Personal Care Attendants or Nurse Assistants or Paraprofessionals, but they're nearly all women, and they are a critical component of long-term care in Vermont.
The report clarified why Vermont faces a crisis concerning the demographic Seguino cited: "Those of us who need direct care and support is outpacing the growth of the direct care workforce. Baby boomers are aging; the number of children diagnosed with cognitive disabilities such as autism is growing; those of us with physical disabilities seek more independence; and, medical advances continue to enable us to live longer, manifesting more complex needs. ... The direct care workforce is aging along with our entire population. At present, 64 percent of direct care workers surveyed are over age 40. As these workers approach retirement age and begin to leave the workforce, there will not be an equal population of younger workers to replace them."
The report cited average pay rates of $11 per hour for these mostly part-time workers. It found career ladders, training, and development largely nonexistent and, as a result, retention is a problem. Camille George, DAIL's new commissioner, told me the report's findings still stand, though one of its nine recommendations was implemented: the Direct Care Worker's Registry can now be found online.
Nearly eliminated in 2010, the registry is included in the Governor's budget this year. It allows those looking for caregiving work to post their resumes, and those looking for help to find it among the 900 caregivers listed there. Members of the Vermont Assembly of Home Health and Hospice Agencies and Area Agencies on Aging (AAA) also have contacts and screen direct-care workers.
George says Vermont is considered "an aging state" but has been a leader in providing self-directed care. "We're somewhat unique compared to other states. The programs [DAIL] [administers], including home health and other community-care agencies, provide care the consumer or surrogate directs. This gives individuals the ability to recruit, train, and supervise their own direct-care worker." In other words, agencies provide funds and fiscal management, but the person who will use the care, or her or his surrogate, usually someone in the family, sits at the table when decisions about needs are made. "This provides greater choice and control," says George. "Some people prefer to have an agency take on the responsibility, but others prefer to hire their own caregiver."
Nevertheless, Choices for Care, a program which funds caregiving at home to keep Vermonters out of nursing homes, has been slated for roughly $5 million in cuts. COVE testified last month that AAA case managers estimated about a third of their current 783 cases would likely need nursing home care if these cuts were made. Home Health Agencies manage an additional 800 cases also at risk. Just 200 new nursing-home placements would cost Vermont an additional $8 million a year – more than it will have saved.
Free or Paid, Caring Costs Women More
Working-class women always juggled these no-win demands, but now middle-class families face them as well. Whatever their financial situation, women have clearly not given up caregiving at home, which comes the cheapest of all. The annual value of women's informal (unpaid) care work has been estimated at between $148 and $188 billion nationally. A report from the AARP Public Policy Institute, "Valuing the Invaluable: The Economics of Caregiving," puts that estimate at $375 billion in 2007 due to new increases in the use of medical technology at home.
It's all peanuts in the face of total U.S. healthcare costs, which were $2.5 trillion in 2009.
Still, informal caregiving remains the foundation of Vermont's approach to childcare and eldercare – as well as those not-uncommon cases where women care for both children and parents. "I believe in the DAIL study, but it does require an investment of money," says Gordon. "We can't just let these issues go by. Families will burn out, they won't be able to find care in the numbers we need. People will have to enter nursing homes, which aren't equipped to handle the numbers – and it's much more expensive. In a bad economy, nursing homes aren't having a problem finding workers, but workers can't make ends meet with these wages." If the economy improves, as we all hope, the field has little to recommend it – except the deep satisfaction many workers claim.
Wendy Love, Executive Director of Vermont's Commission on Women, says we like to give lip service to caregiving but pay parking-lot attendants more than childcare and homecare workers. The Commission recently gave testimony about the need for paid sick time for direct-care workers. Love summarized it this way: "Do you really want caregivers going to work when they're sick, coughing on Grandma?"

The thought is ridiculous, but worse, direct-care workers in our health care system lack health insurance. One caseworker confided her shock when a caregiver she was managing injured her back lifting a client, and couldn't afford to see a doctor. The DAIL report recommended an outreach effort by Catamount to help insure this workforce, yet without data collection on this group, which was another report recommendation set aside, their status remains invisible.
The women to whom I talked, who manage caregiving and direct-care workers, spoke of working on a "cultural change" within the system. Individual women needn't struggle alone, many told me. They seemed hopeful Vermont can recognize systemic problems and help create systemic solutions, citing a need for innovation. Without DAIL's recommended oversight Commission and more uniform data, though, improvements—or the lack of them—may go unrecognized.
Caring Counts and Pays Dividends
Affordable childcare needs to be part of any long-term solution for women and caregiving. Here, too, Vermont leads. While other states are seeking an end to collective bargaining, Vermont childcare workers have support from the Governor for seeking a collective place at the bargaining table for better rates. Like the direct-care workforce, the number of childcare providers in the state can only be estimated (6,000 to 10,000) and are most often women who earn low pay and lack benefits. Some childcare providers are privately paid; others are subsidized.
The federal- and state-funded Child Care Financial Assistance program does not cover caregivers' expenses, said a group of nearly 100 providers last week at the Statehouse. Childcare for the estimated 8,000 low-income children supported by the program costs roughly $39 million a year, according to the state Department for Children and Families. Without that childcare, 7000 families, some of whom no doubt work in the caregiving field, would become unemployable.
If childcare workers win their rights to enter a public discussion of caregiving's costs, direct-care workers who help the elderly may be next. The Federal Fair Standards Labor Act still excludes caregiving from minimum wage and any overtime rules, but with new financial approaches and women's political will, it could change. Perhaps even the unpaid work of mothers and families can be better sustained by improved public policies.
More than half of all young mothers of infants are working today, and depending on their ages, 70 to 80 percent of all moms work. Economist Seguino states, "Socializing our kids is an essential function for this economy. Without kids who grow up and seek jobs and education or training and know how to get there on time, this economy cannot work." If we don't invest in this socialization, she says, it will come back to haunt us.
When kids or parents get sick, most of the emotional stress remains on women. Emotional stress for women makes it harder to balance work and family. Women lose wages and social security doing this care, and even after they go to work, continue to do most of the unpaid work of caring. Statistics from the U.S. Census and the Centers for Disease Control's National Center reveal that while 44.4 million Americans, both women and men, provide informal caregiving, between 69 and 75 percent of those giving free care are women. Female caregivers spend 50 percent more time at it, are more likely to sacrifice paid work (62 percent), and more often report emotional stress (40 percent to men's 26 percent).
"Our population is aging worldwide, not just here in the U.S.," Seguino says, "and we haven't figured out how to handle the demographics." She adds a personal story to illustrate what an abstract trend can mean to any woman's family: "My sister, who is 55, began to have life-threatening seizures. She had to have brain surgery, and just before she had it, she was laid off. After the surgery, she still needed full-time care; her husband was working, and so it fell to my 80-year-old mom to take care of her. We were lucky that she could – but this need for care is simply a fact of being a human being. All of us are dependent at some point in our life. Any society needs to take care of its dependents."
In the course of my week's interviews I heard similar stories: a retirement-aged son worried about his 97-year-old mother living alone two hours away; a young mom who drove her child to kindergarten and her husband to chemotherapy on her way to an hour-long commute to work; an elderly mom still at home thanks to a patchwork of care provided by five sons, their wives, and some direct-care hours from Choices for Care.
"Care used to be informal," Seguino says. "Women took care of these things, and it never worked well for those at the bottom of the economic ladder. But today our families are more mobile, dispersed, and distant. Research shows us that those societies that fail to ensure for this care, and implement this care, deplete their citizens' lives; they have higher mortality, greater numbers of addictions, and more crime. There is evidence that those societies who do invest in care increase their economic productivity."
Rickey Gard Diamond is contributing editor at
Vermont Woman. She lives and writes in Montpelier and especially enjoys taking politics and economics quite personally.