State Climatologist
Makes Weather Clearer
By Tatiana Schreiber, Ph.D.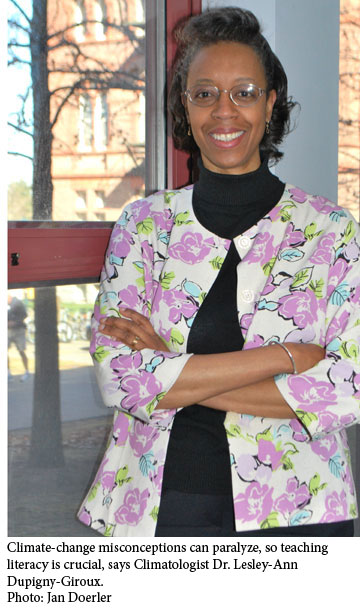 Why did Lake Champlain flood so badly last spring? How unusual was that summer drought? Why was the rainfall during Irene so intense? How are we to make sense of all this?
The weather certainly has been strange lately. As we emerge from the "year of no winter," following the year of record-breaking spring floods, a summer drought, the devastation of Tropical Storm Irene, and that early heavy snow storm last October, most of us are wondering: What is going on?
Fortunately, Vermont has someone working at the state level to help us out. Dr. Lesley-Ann Dupigny-Giroux is a professor of geography at UVM and also serves as our state climatologist. In that capacity, one of her important roles is enhancing "climate literacy" for Vermonters of all ages. She facilitates dialogue among departments of state government that deal with climate and weather, such as transportation, agriculture, and emergency management agencies. Because of her expertise in historical climate trends in our region, she can put today's weather events within their long-term climate context.
One would not at first suspect her special interest is in hazardous events. Her calm demeanor and quiet voice belie her work around the state, helping to describe and quantify the various causes and impacts of floods, droughts, ice storms and other severe weather on Vermont's natural landscape and built environment.
It's also surprising to learn our Vermont State Climatologist grew up in Trinidad, a Caribbean island northeast of Venezuela; its tropical climate averages a temperature of 78.8 degrees. But then again, there is a parallel between the two places. Trinidad has its share of tropical storms, significant erosion, and is often plagued by drought. Vermont's climate, while much colder, is similarly shaped by diverse geographic and atmospheric conditions. Both are affected by mountain ranges, which create distinct microclimates in different regions.
Broad Field Education
Dupigny-Giroux says that as a child she was always outside, interacting with nature, a close observer of what was going on. She remembers rushing home from school so as not to miss the Jacques Cousteau nature specials when they were on TV. She became interested in understanding what caused drought and why sandy beaches eroded in one place and not another.
She chose to pursue those interests at the University of Toronto and McGill University, earning degrees in physical geography, climatology and hydrology, and GIS, geographic information systems. She became an expert in the use of remote-sensing technology.
When Dupigny-Giroux first arrived in Toronto, she says, "It took some getting used to. You always hear pictures and stories, but it is a completely different experience to actually live it. It always felt colder than it probably really was."
At first her work focused on the Caribbean, as she tried to put her childhood observations of rainfall and run-off patterns into scientific context. She wanted to make a contribution—to help people on the ground understand what they were seeing. Drawn to the problem of drought, her research took her to the semi-arid northeastern region of Brazil. There she helped residents use remote-sensing equipment and a "satellite-based perspective," to see which atmospheric, oceanic and geographic conditions were contributing to local droughts.
That interest in drought stayed with her as she turned her attention to New England's current and historic climate trends. To understand why it's colder in the Northeast Kingdom than the Champlain Valley, for example, you need to see things from a systems perspective: elevation, the moderating influence of Lake Champlain, latitude and wind patterns all affect the divergent patterns of weather and climate in our landscape.
Dupigny-Giroux points out that Vermont "lies at the exit region of a number of different air trajectories across North America. We can receive cold, dry air from the North American subarctic; warm, moist air from the Gulf of Mexico; and cool, damp air from the Atlantic Ocean. The meeting of these air systems, in conjunction with the 'prevailing westerlies,' can combine to create storm systems. This accounts for Vermont's proclivity for rain and snow."
Flip-Flop Regularity
This also accounts for the unpredictability of our weather, since the air system blowing through today may not be the same as the one that comes tomorrow. Dupigny-Giroux says our region is known for extremes. The November 1927 flood brought an end to a severe yearlong drought, when 200 percent of the normal rainfall for the month fell in two days. And last year, just before Hurricane Irene? The state was looking at near-drought conditions.
"We were at the point of declaring another drought disaster declaration for the second year in a row," she recalls, but as she was typing up the data to get it to the Emergency Management folks, the rain started to fall and the drought was soon the last thing on anyone's mind.
Dupigny-Giroux says this pattern of drought alternating with floods, often in the same year, has happened over and over again in Vermont if you look at the historical record. "This flip-flopping between droughts and floods is what is characteristic of this state. When storm systems come from over the ocean, they are moisture-laden. But when they come over the land they are drier in content. The pattern tends to get stuck in such a way that the storms move either north or south, and we get less precipitation. If the rainfall deficit is at a particular time of year, such as June, July and August, you will see a pronounced effect."
She points out, however, that some historical droughts were much more severe than those recently experienced. In the 1960s there were 7 or 8 years of drought; we haven't seen that since, but in 1998-1999 we had a year of drought. And then Hurricane Floyd and Tropical Storm Dennis hit.
Climate Change in Buckets
Droughts and floods, their specific characteristics and timing and relationship, are all part of what Dupigny-Giroux tries to communicate in her role as state climatologist. When she enters a room to talk about climate change, she's learned that of 50 people in the room, there may be 45 different perspectives on what climate change means. Some people are concerned about changes they have seen in when flowers bloom; others are worried about increases in carbon dioxide in the atmosphere.
"If one person is talking about one part of this," she notes, "and you're talking about the other, there can be a huge disconnect." To get people on the same page, she usually begins by talking about the three "buckets" of climate change. The bucket of climate change process, for example, holds both human causes and natural variations in atmospheric conditions. The bucket of climate change impact contains the timing of plant flowering, bird migration and ice cover. The bucket of strategies can include adaptation to changes, and mitigation such as energy conservation.
There have been state climatologists since the 1950s, but at that time they were federal employees working at the state level. In 1976, the Association of State Climatologists was formed, and the states developed an agreement with the National Climate Data Center to divvy up responsibilities. Now state climatologists in 47 states are the local component of a three-tiered system that also includes regional climate centers.
State climatologists, Dupigney-Giroux explains, are "the on-the-ground eyes and ears" of the system, "taking the pulse of what the actual needs are," and [with] "the ability to answer questions that are more finely tuned" to local conditions. Some of those questions can be as specific as, "someone who is getting married next year and wants to know what the weather will be like," or more wide-ranging, such as students who need long-term climate data for science projects.
Teaching Tools
Working with young people, from kindergarten through college is an avocation for Dupigny-Giroux. She's been instrumental in starting a program called Satellite, Weather and Climate, or SWAC. Funded by the National Science Foundation and the Vermont Department of Education, the purpose of the program is to build skills and knowledge among middle school and secondary school teachers, who can deeply engage students in science. The curriculum includes an intensive five-day summer course, immersing teachers in the study of climate science, plus monthly meetings during the school year that brings teachers to UVM to meet with scientists like Dupigny-Giroux.
They use a set of teaching modules, such as "clouds and cloud forecasting," developed by SWAC. The program includes gathering weather data. Some participating schools have small weather stations on their roofs that bring data to classroom computers.
"I realized there's a need to bring the core climate concepts or principles into whatever teachers are teaching," Dupigny-Giroux say. She notes there is no explicit mention of these principles in any state standards. The core climate principles SWAC addresses include the idea of convection, which causes heating of the atmosphere.
Another is the effect of human actions on the entire earth atmosphere and ocean system, including greenhouse gases, acid rain, damming of rivers, and pollution of lakes leading to algal growth and oxygen depletion. Third, is an awareness of all the factors that affect climate, such as latitude, elevation, the types of vegetation growing in a region, and whether you live next to a water body.
"It's all the things we already know. But teasing them out, you see that climate principles cut across the entire spectrum of earth science, physics, mathematics and biology, as well as history and social studies."
To help these concepts come alive, Dupigny-Giroux uses multiple methods. In a recent YouTube video she can be seen demonstrating the impact of ultraviolet radiation and ozone depletion with white Frisbees that turn pink when exposed to the air. The SWAC program encourages "project-based learning" where students and teachers "use technology and inquiry to engage with issues and questions that are relevant to their lives." For example, the program uses sensors flown under a miniature balloon to measure varying temperature, barometric pressure, humidity, light and motion. Students can then interpret this data in terms of their daily lives and experiences.
Not the Usual Suspects
Dupigny-Giroux is particularly interested in encouraging girls and students of color to develop an interest in climate science as a career option. "It's just something that's not on the radar for a lot of students," she says, "because they've never been exposed to it, or there are familiar pressures to choose a more traditional career. For a long time there were many fewer women role models than there are today. That can't be underplayed. Young women and girls need to see someone they can emulate; if there were no role model or mentor in those formative years, it can make a difference."
To help change that, she has initiated The Diversity Climate Network, a collaboration between UVM, UCLA, and the University of Georgia, and working with highschool, college and graduate students.
"I think at some point in your career you realize that you have become a mentor, a model. It's a badge of honor that you wear with pride, and you do what you need to do to help the next generation." Recalling Oprah Winfrey, who said, "We all stand on the shoulders of giants who have gone before us," Dupigny-Giroux adds, "It's just a collective sense that the only way you are where you are is because someone paved the way ahead of you."
Through the Diversity Climate Network, she tries to connect to students by making climate science real and relevant. For example, when she had the opportunity to meet with highschool students in New York City recently, she noted that many urban kids have asthma. "When you can show them why they need to know about weather, smog, ozone, then their eyes open, so they can see why they couldn't breathe. If you can bring in satellite images so they can see cloud patterns, stagnation events, pollution episodes, it's a way into their world without having to be overtly scientific. When they start sitting up and asking questions, and you are not able to finish what you started saying, that's a good sign."
But learning about climate change can also bring on a sense of hopelessness and despair. According to Dupigny-Giroux, "education without angst is huge."
Action, Not Paralysis
Sometimes when a child is asked what they know about climate change, Dupigny-Giroux says, "They will write things like 'Are we going to die in 2012?' When you probe a little deeper, and find out where they gleaned their information, it is often from movies or the media. But if it's not well-done for their developmental age, they develop misconceptions. It's important to phrase things in a way that is age-appropriate, and developmentally appropriate, so that kids can absorb the material, work with it and use it, and not become completely paralyzed."
In that way, students and the rest of us can gain the knowledge and appreciation of the larger context of events like Hurricane Irene. We can become engaged in public debate and action around climate concerns.
Those concerns include how we can translate our understanding of the earth's atmosphere into thinking about energy policy; determining how climate change will affect agriculture in the future, and how farmers can become more resilient; thinking about how our transportation infrastructure will be affected by floods in certain regions of the state; learning how climate is affecting our forest ecosystems and maple sugaring; and figuring out the best and most accurate way to use statistics for the data we now have available.
For example, when comparing current weather to what is "normal," climatologists use an average taken over the last 30 years. But which 30 years should be used? Perhaps we should be using a century average, from 1900-2000, so we could be comparing today's data with data gathered over a longer time-frame.
In addition to her work at the state level and at UVM, Dupigny-Giroux has authored dozens of papers on her specializations, including her concerns about climate literacy. In 2008 she guest-edited a special issue of the journal Physical Geography on this topic. She serves on the board of the American Association of State Climatologists and on the Vermont Academy of Arts and Sciences, which works to raise awareness of social sciences, natural sciences and the humanities across the state.
"Being of service is one of my core values," she explains. Our state is the beneficiary.
Tatiana Schreiber is a journalist, educator, and small-scale farmer in Westminster West, Vt. She can be reached at tatianas@sover.net