Louisa Drury: Her Living
"Midnight in Paris" Adventure
By Bronwyn Fryer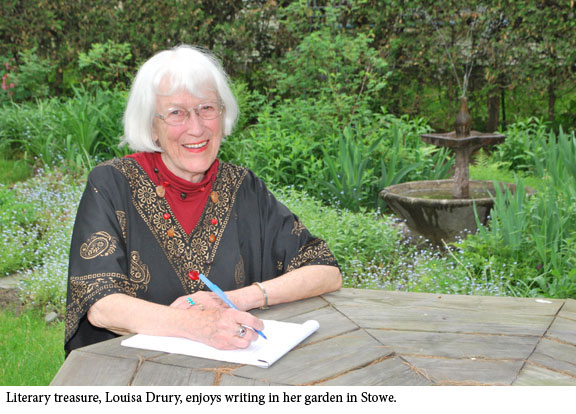 Imagine that it's a summer evening in 1952, and you and a tall, handsome man are strolling Paris's romantic Left Bank. Your companion is an exquisitely educated New Yorker named George Plimpton. He is just a few years older than you. Neither of you is married, nor is he yet the famous literary wit he would one day become. He has recently brought you on as an unpaid volunteer to help sort out the office at the newly founded literary magazine, The Paris Review.
You and he have just shared a liter of wine at the famous Café Deux Magots, and he walks you past a curious-looking place on a cobbled side street. "Men go in there," Plimpton says, pointing. "The women strip you, and then you lie on a couch. They rub chocolate all over your body and lick it off. It is a wonderful feeling."
"We didn't go in," recalls Louisa, whose blonde hair has turned white, more than 50 years later. "But he was certainly not prudish. He was fun, humorous, witty, broad-minded and not at all snobbish."
Born in 1929, Louisa Drury (née Noble) of Stowe is a Vermont treasure, a walking, talking literary museum. You would never guess that she is on the other side of 80. Her intelligent, sparkling blue eyes, alto voice and artistic dress are those of a much younger woman. Yet she remains just a degree of separation away from the Who's Who of expatriate, avant-garde artists and writers who loitered around the Left Bank in 1950s and 1960s Paris, where she lived, worked and raised a family from 1952 to 1968.
By the time Louisa arrived in Paris in the summer of 1952, the "Lost Generation" that included Hemingway, Gertrude Stein, F. Scott Fitzgerald, T.S. Eliot and Ezra Pound had long since come and gone. But the faintest whiff of their cigarettes and whisky still hung about the place, as did many older people who knew them. And a new generation of writers and artists took up where they left off. Along with the dashing Plimpton and his gang at the The Paris Review, Louisa was there for a long, mad and merry ride.
Oh, to know whom she has known, to see what she has seen!
Louisa's World
I met Louisa when we happened to sit next to each other during a screening of Woody Allen's Midnight in Paris at the Savoy Theater in Montpelier. We both loved the film, and when I said something in French to my husband, she overheard me and answered in beautiful, fluent Parisian.
We all went out to enjoy a glass of wine, and talk about Paris. She told me a bit of her fascinating story, and we have been fast friends ever since. After all, what literary wannabe worth her salt would not want to hang out with someone who seems to have walked right out of Allen's magical movie?
Louisa is full of tales of the men and women she loved, and with whom she worked and kept company. Surprisingly, she wasn't crazy about the celebrated humorist Art Buchwald, who dictated his New York Herald Tribune columns for her to type for the Paris edition: "He wasn't funny at all in real life," she says.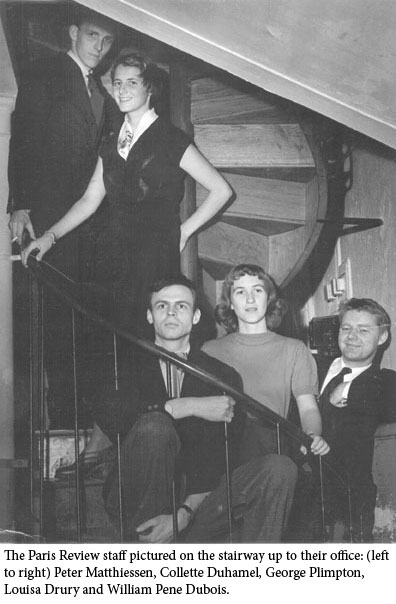 And she could not abide The Paris Review's managing editor, John Train, "a mean little man," she says, who had a Napoleon complex, and treated her and the other women at the Review as inferiors.
Such behavior on the part of men wasn't unusual. At the time in Paris, as in the United States, men looked on women as decorative objects and second-class citizens. Working women, in particular, were on the receiving end of male condescension. "Train called us all 'Miss Abtheker,'" says Louisa, narrowing her eyes, "which means 'menial person' in Greek."
Friends and Fame
Still, Louisa experienced plenty of wonderful moments with the romantics all around her. I love to think of her shelving books at Shakespeare and Company, the famed Left Bank bookstore. Originally called "Librairie Mistral," it was later renamed after the original shop run by Sylvia Beach, who published James Joyce's works.
Louisa's good friend George Whitman, the bookstore's caretaker, was self-declared nephew of the iconic American poet Walt Whitman. He would let Louisa run the store while he went out on book buying sprees.
The shop was the American expatriate writers' beehive, and the bees—some of whom often slept in the shop—included international literary giants such as Richard Wright, Anaïs Nin, Henry Miller, and a generation of Beat poets, including William S. Burroughs, Allen Ginsberg, Gregory Corso and Whitman's friend Lawrence Ferlinghetti. When the shop was packed with expatriates, George often sent the overflow to Louisa's loft.
I imagine Louisa, too, on the holiday boat ride she took with novelist William Styron (Lie Down in Darkness; Sophie's Choice) and his family, spending the whole time fearing that her little daughter would slip overboard into the water. Or discussing the U.S. civil rights movement with Black Boy author Richard Wright and his wife Ellen, who helped writer Ed Naughton publish a Western that later became the film McCabe and Mrs. Miller. "Ed practically became a millionaire overnight and couldn't handle it," Louisa remembers. "He spent all the money on alcohol and psychiatrists and their pills."
I especially love to think of her sipping wine, and gazing at the great writer Peter Matthiessen, author of At Play in the Fields of the Lord and other novels. "He was far the nicest Paris Review editor of them all," she says. "I had a huge crush on him, but he was married. His wife was pregnant, and had to stay in bed. I used to wish I'd known then that they were going to divorce!"
There were other less famous Left Bank characters in her memories, including Winnie, "an enormously fat black woman, with a terrific sense of humor and abandon, who used to flip one huge bosom out onto the counter at the Café du Dôme and call out 'Fill 'er up!' to everyone's delight," Louisa says. "And Buttercup, the widow of jazz musician Bud Powell, who started a nightclub in Montparnasse called Buttercup's Chicken Shack."
Her Path to the Garret
Born June 5, 1929, to a well-to-do family, Louisa Noble was the eldest of four children. She grew up in Groton, Ma., where her father, who'd given up law, taught Latin and history, and coached sports at the exclusive, private Groton School. Louisa herself was the product of posh girls' schools. From her earliest days, she dreamed of being a teacher and a writer. She drank in the Brontes, Shakespeare and Hardy while attending Concord Academy. "I wanted to marry someone like Byron or Keats," she recalls.
She identified with Skeeter, the young, aspiring journalist in the recent novel, The Help. "I used to wonder how maids thought and felt," she says. "That was the writer in me. I told my father I thought Groton should take in blacks, and he nearly fell over. He stared at me and then asked, 'What would we do at the dance?'"
After graduating from Barnard College in 1951, Louisa became a teacher at a private girls' school in New York. She soon decided that she'd had quite enough of snobbish girls-only schools, so she gathered her small savings, and took up her parents' offer of a trip to Paris. "If I'd had a choice, I might not have come back," she says.
In the years following World War II, Paris was just getting back on its reeling feet. It was cheap to live there—one could live well on $75 a month—and her parents gave her small stipend until she found a job.
"I learned where all the cheapest restaurants were, and I found a tiny room at the Grand Hôtel de France on the Left Bank," she remembers. "It was the opposite of grand. I heard from my aunt, who was a writer, that there was a new magazine that needed an office girl. So I went there, and was warmly greeted by George Plimpton."
Working with Legends
Plimpton worked alongside Matthiessen and the future U.S. poet laureate Donald Hall to produce a superb literary magazine, still renowned for publishing some of the best writers in English. Its interviews with famous authors, including Hemingway and Faulkner, are a writer's dream, focused on their methods.
The co-founder, Harold Humes, had leased The Review's cramped quarters on the Left Bank from La Table Ronde publishers, Colette Duhmael and her husband, who acted as "advisors." The wages were little or none, but what the staff lacked in pay, it made up for in enthusiasm.
Louisa well remembers the first issue. It featured an interview with the great novelist E.M. Forster (author of Howard's End and A Passage to India) and a poem by Hall. The publication was tastefully illustrated by William Pène du Bois, and the advisory board included such notables as Styron and poet Archibald McLeish.
The opening editorial statement by Styron noted that "The Paris Review hopes to emphasize creative work—fiction and poetry…and should welcome the good writers and good poets, the non-drumbeaters and non-axe-grinders. So long as they're good."
Louisa, first charged with putting the massive number of manuscripts into decent order, later read submissions, and became the publication's "circulation manager." This meant that she drummed up advertisements, replied to requests for subscriptions, and took care of billing and mailing. She distributed the magazine to bookstores and kiosks all over Paris, and brought issues to London. It was the only way she could earn money there.
Love and More Work
George Whitman introduced Louisa to her future husband, a brilliant and visionary painter from New Zealand named Harold (Harry) Drury. Louisa was immediately smitten. "Painting is his entire life," she told a reporter for Holiday magazine, who was doing a story about American women in Paris at the time, before she married Harry. "A wife would have to be secondary to painting…[and] he's absolutely unmindful of money."
After they married, Harry remained unmindful of money, so someone had to earn it. Louisa took on other jobs to keep the family afloat. She bore three children: Carol in 1958; John in 1962; and Kathryn in 1963. "I am so thrilled I had those three children, who were so proud of being born in Paris," she says. "I had not a single regret.…We were terribly poor most of the time, but then all of those in our circle were poor, too."
All the while, she dreamed of being a writer herself. But she didn't have the time, because she was constantly working to keep bread on the table and a roof over her family's heads. Aside from working at Shakespeare and Company, Louisa worked at the Paris edition of the New York Herald Tribune as a typist, where she would type up not only Buchwald's answers to fans by day, but also stories that foreign correspondents read to her over the telephone by night.
She worked as a translator and taught at the American School of Paris. And once, she worked as the secretary for Alice B. Toklas, the life partner of the famous Gertrude Stein. "She was writing something called The Artists' and Writers' Cookbook," Louisa recalls, describing Toklas, for whom she worked for two years. "She was very old, skinny and bent, a sort of Miss Havisham. But we worked on the cookbook, and I typed it up." The cookbook was never published.
Louisa evokes a sad little woman who grew increasingly fragile, angry and distrustful. After Stein died, Toklas lived in their "dingy little apartment" whose walls had been stripped bare of Picassos, Miros, Matisses and other great art left to her by Stein. Stein's family, fearing the paintings were unsafe in the apartment, had taken them away.
"She would point to the bare walls, where you could see the dusty outlines of the frames," Louisa says. "She had tears in her eyes. It just about broke her heart." After Toklas broke her hip, and moved to a nursing home, the old woman falsely accused Louisa of nicking money from her postal fund. "I'd never stolen anything in my life, and I was so insulted I never went back," Louisa says now, sounding rueful.
Leaving Paris
From my standpoint as a devotee of literature, Louisa's years in Paris sound wondrous, indeed. But for her, they were bittersweet—and not just because Louisa was forced to work at a series of low-paid jobs while she suppressed her own artistic urges. It was also because alcohol—the drug of choice for the writers and artists of that milieu—visited its particular hell on her husband. Harry died in Vermont in 2003.
The Drurys did not want to leave Paris in May of 1968, but they had no choice. "Paris was getting very expensive; I could not work any more extra jobs than I was already doing, and we could not afford to live there anymore," Louisa remembers. It was also getting dangerous: anti-American student rebellions, like those in the United States, were beginning to erupt over the Vietnam War.
After the family had packed, they found themselves waiting at the station at Gare St. Lazare for the train that would take them to their ship back to America, and eventually to Stowe. Louisa had not cried until then. But when she was accidentally hit by a luggage cart, all her grief at leaving her beloved Paris came tumbling out. "I cried and cried," she said. "I cried like a waterfall. It was awful."
On returning to the States, Louisa supported the family in Vermont by teaching, translating, and typing at The Stowe Reporter. Today, she has a rich life in Stowe, and two of her three children still live in Vermont; Carol, an artist, lives in Greensboro and Kathryn, a novelist and teacher, lives in Plainfield. Her son, John, is a town manager in Florida. Louisa has nine grandchildren.
When she looks back on her life, Louisa recalls the years in France as a time when she found herself and honed her sensibility. "I found like-thinking people, unprejudiced, open-minded people, fellow truth seekers: writers, painters, sculptors, poets, drifters, existentialists. …I loved the life and the freedom over there, especially the freedom of thought; the freedom to grow your own way, your true way, rather than wasting time with other people's short-sighted, conventional expectations."
This immensely brave, intelligent, gifted woman in her own right kept journals all her life, but never pursued her own artistic ambitions. She has not yet written out her own story. But like so many women before her, she made the artist's life possible for her husband.
How many famous books by men are dedicated: "To my wife, without whom…"? Louisa is not bitter; she is lively, lovely, and full of her amazing histories. And today, she herself is a work of art, a living testament to a bygone age.
Bronwyn Fryer is a contributing editor at
Harvard Business Review, and has published books and articles about organizational behavior, behavioral economics, emotional intelligence, high performance leadership and other complex subjects. A lover of literature, Fryer lives in Montpelier. Check her website at www.bronwynfryer.com.