Welcome to Vermont Woman Online
Vermont Woman is a forum for news, issues, features, arts and entertainment from the perspective, experience, and voices of Vermont women. Vermont Woman is a quarterly newspaper published seasonally in South Hero, Vermont.
This website is an extension of the print publication, but not all, articles are posted here. We encourage our readers to contact us, either here on the website or at our Facebook page.
Vermont International Day Celebration: 2018 Honorees
L-R Dolly Fleming, Executive Director Mercy Connections; Sue Gillis, Publisher: Vermont Woman Newspaper; Barbara Jordan: Senior Fitness Expert and Advocate.
One Year of Trump
Trumpian Women: Stilettos Over Substance
by Sue Gillis
One year into the Trump presidency and what a year it's been. An administration mired in lies, scandals, and federal investigations. Let's just say it's been a two-year national fiasco the American citizenry has endured. We've witnessed reckless executive orders, the dismantling of affordable health care and the defunding of women's health care, the opting out of international trade and climate change agreements, relentless legal maneuvers to stop immigration and rescind DACA, support of local white supremacists, and Trump's demeaning of women, Gold Star parents, and members of his own staff.
And let's not forget the macho ape-like chest beating, the spewing and twittering of taunting threats and insults to North Korea's Kim Jong-un, which have created international fear and the possibility of an accidental or deliberate out-of-control nuclear holocaust... and the endless list goes on and on.
Local Chefs Serve Up Exceptional Cuisine
by Cynthia Close, Michelle A.L. Singer, and Sarah Galbraith
Three Vermont Woman writers fanned out to Burlington, South Hero, and Montpelier to interview the female chef-proprietors of three outstanding Vermont restaurants. An emphasis on using local ingredients and concocting delicious dishes—plus hard work and a passion for what they do—are the common denominators among these three talented chefs.
Donnell Collins: Creating French Fare with Flair at Leunig's

by Cynthia Close

Crystal Maderia: Connecting the Seasons & the Land at Kismet

by Michelle A. L. Singer

Phoebe Bright: Serving Down-home Gourmet Food at Blue Paddle Bistro

by Sarah Galbraith
The Hardworking Women Behind Vermont's World-Class Wine & Cheese
by Amy Lilly
Wine, cheese, and their pairings may be more often associated with France or California than Vermont. But since the Green Mountains' artisan cheese movement took off in the 1980s, and the wine-growing movement followed suit with the introduction of cold-hardy grapes in the late 1990s, it has become possible to sample world-class examples of both products.
Vermont Woman visited two women farmers who earn their livelihood creating these delectable wares: winemaker Christina Castegren, of Berlin, and cheesemaker Laini Fondiller, of Westfield. Whether Castegren's crisp, bright wines should be paired with Fondiller's rich, complex cheeses is a matter best left to the experts—including them. But both women make dependably delicious products by combining detailed attention to the science of their craft with creative sensibilities.
Fresh Track Farms, Christina Castegren
Lazy Lady Farm, Laini Fondiller
Enterprising Vermont Women Whip Up Chocolates, Cookies & Hot Sauce
by Michelle A. L. Singer
Vermont has gained a national and even international reputation for its fine food and drink—craft beer, artisan cheese, and restaurants specializing in local, organic produce.
Vermont Woman interviewed three women in the business of crafting delectable treats—everything from gourmet chocolates to organic granola, vegan cookies, and artisanal hot sauces. All three women—Jaquelyn Rieke, Claire Georges, and Leigh Williams—make a point of sourcing good ingredients: ethically produced, organic, and often local.
Jaquelyn Rieke of Nutty Steph's, Middlesex
Claire Georges of Butterfly Bakery, Montpelier
Leigh Williams of Laughing Moon Chocolates, Stowe
Building Food Resilience in Vermont
by K.C. Whiteley
What can we do to make our communities safer, more equitable, and more resilient to what may be the devastating impacts of climate change? One step toward achieving resiliency is attaining food self-sufficiency. A number of far-sighted Vermonters are working hard to gain greater independence by growing more of our own food right here, where we live.
Among the challenges are Vermont's less-than-ideal growing conditions: a relatively short growing season and not the best arable land for crops. And we are part of a national consumer culture where it is commonplace for people to expect to eat fruits and vegetables year-round that are grown thousands of miles away and shipped around the globe.
Right now, Vermont has about 800 operating dairy farms and an equal number of vegetable and crop farms, primarily small-scale operations. Vermont Public Radio recently reported that close to a third of our farms are run by Vermonters over age 65, and according to a recent study by Land for Good, 91 percent of those have no one younger lined up to take over. On the plus side, from 2002 to 2013, food system employment in Vermont increased by 5,589 jobs (9.9 percent). Over 60,000 Vermonters are directly employed in our food system.
Jaiel Pulskamp: Organic Farmer & Climate Activist
by K.C. Whiteley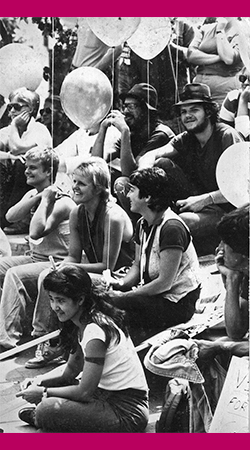 From an early age, Jaiel Pulskamp, of Kettlesong Farm in Worcester, Vt., loved the outdoors. So it's no surprise that she chose to become a farmer. As the owner of a small-scale organic fruit and vegetable farm, she finds herself outdoors most of the year, in all kinds of weather.
Pulskamp, 43, was born in Taos, New Mexico, where her family homesteaded, and spent her early years playing with Native American friends, absorbing a spiritual philosophy that was nature based. "It was a huge formative part of my life," she says. She recalls a strong connection to the natural world, hiking and camping with her family before moving to Denver, Colo., around age 6.
As an undergrad at Friends World College (now Long Island University), Pulskamp worked with subsistence farmers in Costa Rica, which opened her eyes to sustainable farming practices, as well as the destructive practices of corporate agriculture companies. For generations, these farmers allowed sections of their land to rest and restore before replanting. But corporations had pushed GMO seeds and herbicides on the local farmers, altering their farming habits for the worse. Her experiences in Costa Rica inspired her to come back to the United States and enroll in the Apprentice & Farmer Worker Program at the Northeast Organic farming Association of Vermont (NOFA).
Body Positive: Embracing a Healthy Attitude Toward Food
by Sarah Galbraith
"Darling girl, don't waste a single day of your life being at war with your body, just embrace it." —Taryn Brumfitt in the documentary Embrace
Thinking about losing weight or getting healthier but tired of the usual methods? The turn of the year is approaching, and many of us will declare new goals in the new year for our bodies and health. Fortunately, certified eating psychology coach Melissa Story (www.melissastorycoaching.com) says it's possible to transform your health and body without the restriction and self-hate that accompanies many strict diets. She says it's all about women developing a new relationship with food, one that starts with loving ourselves and being present in our bodies and that achieves goals like more self-love, better nutrition, and weight loss.
Body Love
At a time when 91 percent of women hate their bodies, new conversations are popping up on social media, online, and in magazines and even in a recent movie. The 2016 documentary Embrace challenges the ideals that society holds for women's bodies, from wrinkles to cellulite to weight, by talking with women around the world about self-loathing and body shaming and exclaiming "enough!" Health at Every Size is a social movement and online community based on a book of the same title that supports people of all sizes. The book, by Linda Bacon, PhD, challenges myths around weight and health, and these resources work together to form a social movement around treating bodies with respect.